When we think about all the people in the motor sports world who live their life at speed, it might be easy to overlook the photographers and videographers.  These creative individuals who, because of their love for all things fast, dedicate their lives to following the fury from city to city, and often from continent to continent, in order to show us everything we wish we could see in person.  But it's not just bland reporting.  These people are true artists and their vision is as close to poetry as you will find on digital media.
This series of posts will introduce you to, or if you already know the names, get you more familiar with, some of the more talented people in this group.  We're starting off the series with one of the most talented film makers I've ever met, Will Roegge.  If' you've watched an epic drift video on YouTube, then you have likely seen Will's work.  He's also one of the founders of Keep Drifting Fun (KDF), which recently released a mini-documentary focused on the grass roots drift scene here in America.
Will and I spoke at the Formula Drift event in Long Beach earlier this spring.  Here are the highlights of that conversation:
ML@S: State your name and occupation for the record…
Will: My name is Will Roegge, and I am a filmmaker, entrepreneur, and lover of driving fast cars.
ML@S: Tell us what it takes to live your Life at Speed…living via jet, out of a suitcase.
Will: Living via jet, out of a box, or out of a car…it takes loving what you're doing, I think, to be able to do that.  But, I love to travel.  I think some people would stress about having to drive across the country multiple times.  I think I drove across the country 5 times last year…coast to coast.  And I love it.  I love putting miles on cars, being behind the wheel of cars, whether it's on the highway, or cruising route 66, it doesn't matter.  I love automobiles, and I love traveling.
ML@S:  How long have you been doing this now?
Will: I've been doing this now for 5 years.
ML@S: Still enjoying it?
Will: I love it.  Never been work.
ML@S: Can you imagine doing anything else?
Will: I think the more I explore things…things like working with Brant, and like motion, and doing things like that.  But definitely directing, doing commercials, and making films is definitely my love and that's what I want to do.
ML@S: So tell me about your latest project?
Will:  Which one?
ML@S: You have multiple projects going right now?
Will: One thing I have been working on for the past 2 years, is a documentary on grassroots drifting in the United States.  Just wrapping that up, and that is gonna premiere before Formula D, Atlanta  this year.  So that's a big project to get off our plate for sure.  Other than that, starting a new production company, trying to help bring up younger directors, and get them more experience, and get them tapped into the agency world for creating content, like online content, a lot of different O.E.'s and other companies in the automotive industry.
ML@S: I've heard a little bit about your industry as a whole and it seems more… rather than hard competition, it's more friendly competition.  You guys seem to share a lot of ideas.  Do find that's the case?
Will: Yeah.  I think specifically, too, that is definitely my approach.  None of this is a competition.  You know, I wouldn't be where I am today, and be able to do what I love, if I didn't have great mentors and friends…people willing to show me things and invest me in personally.  And that same attitude is perpetuated by what I do, and through out the industry as a whole.
ML@S: Do you have someone you can point to throughout your career that you have been able to go back to for advice?
Will:  Multiple people actually, like when I first started there was a guy, Rob King, who helped to get me tied into a lot of non-automotive stuff and helped me hone my video skills, and even people at the Sundance Film Festival, like Joe Byer, helped me a lot.  And more recently, Jeff Zwart is definitely someone I look up to as a driver, and as a director, and as an entrepreneur, is somebody I respect allot.  And he's somebody that's there and accessible.  He's not up on some pedestal, but someone who is willing to be your friend and give you input on whatever you want.
ML@S: I know you worked with him quite a bit in 2010 at Pikes Peak.  Did you work with him in 2011 as well?
Will: I did, yeah.  I worked with Jeff Zwart the past 2 years at Pikes Peak, and with Porsche, and it's been phenomenal.  In the GT3 Cup and then last year in the GT2 RS both in the Time Attack class.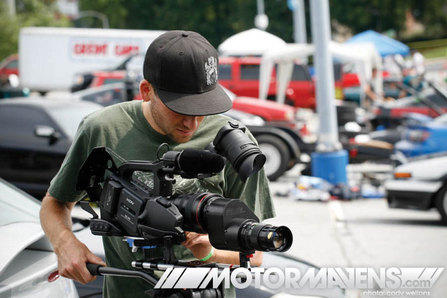 ML@S:  Sound like you've got a pretty busy life.  And it sounds like you're having a lot of fun.
Will: I am.  I think that it's cool to go back to a place like Pikes Peak and to be there the years I was able to witness.  I feel like if I wouldn't have gone to Pikes this year I would have been disappointed.  It was good to be able to see the road at the end of an era, and to be able to see it with more gravel and dirt, the way it originally was.  It gives me a lot more respect for it, because things are changing on the mountain. I don't have any judgement tied to that change.  Like I am not holding on to it,  or the past.  Like saying "It needs to be this way, and it's not going to be the same".  It's a new challenge for people.  It's going to be exciting  with how many competitors are coming to it, how much exposure the race gets.   That is going to be awesome to watch the vehicles change and everything that goes with that.   The competition will be even more intense this year.
ML@S:  So we're definitely going to see you up there this year?
Will:  Absolutely.  Even if it's on my own dime, I will be at Pikes Peak.
**Of course, sometimes life gets in the way of our best laid plans, and unfortunately, Will won't be able to make it to Pikes Peak this year.  But we certainly expect to see him back on the hill taking incredible video in 2013.  Make sure to check out Will's work on his own site:  http://willroegge.com/.
That link in itself, will make you drool, envy, aspire, perspire, dream, wish and love the art of motorsports. Click and browse only if you have time to completely be absorbed by the amazing work of Will Roegge.  This is Will's GT3 Climb video from Pikes Peak 2010:
So there it is.  If you don't already know Will Roegge, you should take the time to get to know him.